Dr. Philip Yeagle, of Rutgers University, has publicly thanked the University of Virginia community of scientists in an open letter in the May 2014 issue of the Annual Review of Biochemistry, ASBMB Today.  Dr. Yeagle was a former postdoc at UVA in the mid to late 70's and is leading an impressive career, now thanking UVA for the stimulating community that gave him his start.
"The cluster of immensely talented faculty members, most of whom were in the biochemistry department, was dedicated to understanding the structure and function of biological membranes."
"…this is an overdue letter of deepest appreciation to a remarkable community of scientists from one individual and on behalf of what became a new generation of scholars originating in Virginia and spreading out over all the scientific world."
"Philip Yeagle 'Ķ¬†has been with Rutgers University-Newark since 2007. From 2011 to 2013, he was interim chancellor there and, before that, dean of the Faculty of Arts and Sciences. He spent a decade as a chairman of the University of Connecticut'Äôs molecular and cell biology department and prior to that was a professor at the University of Buffalo School of Medicine and Biomedical Sciences. He has served as executive editor of the journal Biochimica et Biophysica Acta 'Äď Biomembranes and as an editorial board member of the Journal of Biological Chemistry."
June 3, 2014 ·
Jennifer Nickerson-Hoffman ·
Comments Closed

Posted in: Uncategorized
UVA Today, May 30, 2014  by Josh Barney
Lukas Tamm
Researchers at the University of Virginia School of Medicine have discovered how the deadly Ebola virus punches its way into the cytoplasm of cells. The finding identifies an important target for blocking the infection process of this incurable disease that many fear may be used for bioterror. Outbreaks of this extremely dangerous, highly contagious virus are now under way in the African countries of Guinea, Liberia and Sierra Leone. Ebola kills up to 90 percent of people who contract it. In addition to the toll on human life in the areas already affected, there is significant concern that it could spread elsewhere around the world, so finding ways to combat it is a global priority.
Understanding Ebola Infection
U.Va.'Äôs new discovery offers important insight into how the virus works its way into cells.¬†After the virus is engulfed by the cell, it is contained within a vesicle where it can do no¬†harm. But Ebola quickly escapes the vesicle, and now scientists understand how. U.Va.¬†researcher Lukas Tamm of the Department of Molecular Physiology and Biological¬†Physics and his team discovered that the pH level inside the vesicle triggers the surface¬†glycoprotein on the virus to form a 'Äúfist'ÄĚ that lets the virus punch its way into the cell'Äôs¬†cytoplasm, where it can effectively turn the cell into a factory for virus production.
'ÄúIf it stayed in the vesicle, it would be not much of a problem. The cell could digest it,'Ä̬†Tamm said. 'ÄúBut then it escapes from that internal vesicle into the body of the cell, and¬†that'Äôs when the danger happens. It does that by fusing its own membrane with that cellular¬†vesicle membrane, and that lets the RNA of the virus out into the cell to replicate, to¬†basically cause havoc in those cells.'ÄĚ
Unclenching the Fist
Ironically, when the virus approaches a cell, what becomes the fist looks more like an¬†outstretched hand. The U.Va. research explains how the virus forms its fist and identifies¬†amino acids within the virus critical for the clenching to occur. 'ÄúIf you lose those,'ÄĚ Tamm¬†said, 'Äúit would always be in the extended hand formation.'ÄĚ
To test his findings, Tamm turned to the School of Medicine's Judith M. White, a researcher in the Department of Cell Biology who has developed virus-like particles that act like Ebola, but pose no danger in the laboratory. Working with those particles, they were able to verify Tamm's hypotheses about the fist-clenching process held true not just in test tubes, but in live cells. Then they took the work even further, enlisting Dr. Peter M. Kasson of the Department of Molecular Physiology and Biological Physics to create a computer model of that process. The result is a remarkable new understanding of Ebola infection.
'ÄúIt'Äôs a very nice collaboration between structural, cell and computational biologists that¬†shows how beneficial it is to have all these different areas of expertise here at U.Va., so¬†that we can tell more of the whole story,'ÄĚ Tamm said.
By understanding that story, researchers are a significant step closer to being able to stop¬†Ebola 'Äď and perhaps other viruses with similar structures as well.
'ÄúOnce you have visualized the molecular shape changes that these structures undergo¬†upon cell entry, you can see what molecules or potential anti-viral drugs could interfere¬†with this process,'ÄĚ Tamm said. 'ÄúYou have these contacts that need to be made to make¬†the clenching of the fist happen 'Äď if you could find a molecule that throws a wrench into¬†the gears of that mechanism, you could actually block that from happening.'ÄĚ
Discovery Detailed
The researchers have detailed the fist-clenching process in a paper published by the Journal of Virology. The article's authors are Sonia M. Gregory, Per Larsson, Elizabeth A. Nelson, Kasson, White and Tamm.
Source URL:  https://news.virginia.edu/content/ebola-s-fist-uva-unlocks-how-deadly-virus-smasheshuman-cells
June 3, 2014 ·
Jennifer Nickerson-Hoffman ·
Comments Closed

Posted in: Uncategorized
Congratulations to Dr. Zimmer, Jacob Morgan and Joshua McNamara for their recent publication in Nature Structural and Molecular Biology. In this paper they describe how the bacterial signaling molecule cyclic di-GMP stimulates the biosynthesis of bacterial cellulose. Zimmer and colleagues crystallized a complex of c-di-GMP with membrane-bound cellulose synthase and by comparison with their previously published apo-enzyme (Nature 493:181) found an allosteric mechanism of catalysis. This work represents the first molecular description any c-di-GMP-activated enzyme.
April 30, 2014 ·
Jennifer Nickerson-Hoffman ·
Comments Closed

Posted in: Uncategorized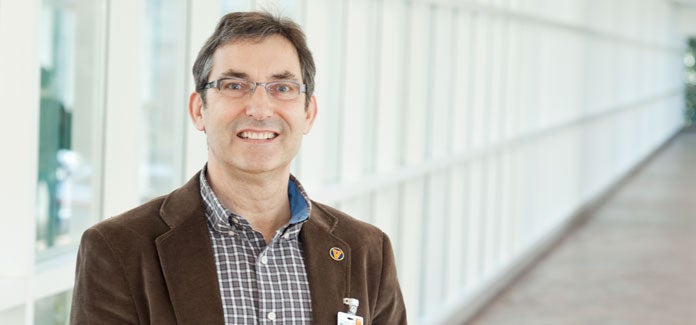 Congratulations to Lukas Tamm, PhD, Professor of Molecular Physiology and Biological Physics, for being elected to receive a Humboldt Research Award. This honor was awarded by the Alexander von Humboldt Foundation, a group dedicated to promoting academic cooperation between excellent scientists and scholars from abroad and from within Germany.
According to the foundation'Äôs website, 'ÄúThe award is granted in recognition of a researcher'Äôs entire achievements to date to academics whose fundamental discoveries, new theories, or insights have had a significant impact on their own discipline and who are expected to continue producing cutting-edge achievements in the future.'ÄĚ Dr. Andreas Herrmann from the Humboldt-University, Berlin, Germany, nominated Dr. Tamm for this award.
On receiving the award, Dr. Tamm says, 'ÄúThis is a wonderful opportunity to expand my research into new areas and get access to specialized technologies that are available only in a very few places in the world.'ÄĚ
As an awardee, Dr. Tamm is invited to spend time in cooperating on a long-term research project with specialist colleagues at one or more research institutions in Germany. Please join us in congratulating Dr. Tamm on this wonderful honor!
[this posting is from UVA Health System's News blog: http://uvaconnect.com/school-of-medicine/2014/03/05/tamm-receives-humboldt-research-award/ available on campus]
March 18, 2014 ·
Jennifer Nickerson-Hoffman ·
Comments Closed

Posted in: Uncategorized
January 24, 2014
January 27, 2014 ·
Jennifer Nickerson-Hoffman ·
Comments Closed

Posted in: Uncategorized
http://news.virginia.edu/content/uva-president-hear-student-researchers-presentations-april-29
By Matt Kelly
Graduate and undergraduate researchers at the University of Virginia will have the opportunity to present their findings to President Teresa A. Sullivan in a competition to be held April 29 in Newcomb Hall.
Forty-two research projects have been selected to participate in the Presidential Poster Competition, vying for research travel money. Presentations are scheduled to start at 2 p.m., with Sullivan arriving at 4 p.m. to listen to the researchers and present the ribbons.
……..
The competition, sponsored by Sullivan's office, is designed to recognize research as a central part of U.Va.'s mission.
'ÄúThe Presidential Research Poster Competition celebrates the universal involvement of our students in research, and its centrality to their personal growth,'ÄĚ Skalak said. 'ÄúOur students are producing significant new insights every day and we are proud to recognize them. Research threads in the U.Va. student experience intertwine with classroom learning and faculty mentoring to produce a strong and eternal 'Äėgolden braid'Äô 'Äď fashioned from real experience and the habit of learning by doing."
April 29, 2013 ·
Jennifer Nickerson-Hoffman ·
Comments Closed

Posted in: Uncategorized
2013 National Science Foundation Graduate Research Fellowship Program awarded to Jake Morgan of Dr. Jochen Zimmer's Lab.
Congratulations to Jake Morgan!
NSF received over 13,000 submitted applications for the 2013 competition, and made 2,000 award offers. Congratulations to the awardees and honorable mentions.
The National Science Foundation's Graduate Research Fellowship Program (GRFP) helps ensure the vitality of the human resource base of science and engineering in the United States and reinforces its diversity.  The program recognizes and supports outstanding graduate students in NSF-supported science, technology, engineering, and mathematics disciplines who are pursuing research-based master's and doctoral degrees at accredited US institutions.
April 9, 2013 ·
Jennifer Nickerson-Hoffman ·
Comments Closed

Posted in: Uncategorized
Dr. Michael Wiener's Lab has been in the news and on the news, focusing on exciting developments. Click HERE to see the video from NewsPlex
From the University's PR department:
By Josh Barney, Lead editor, University of Virginia Health System
434-243-1988
CHARLOTTESVILLE, Va., March 29, 2013 – Researchers at the University of Virginia School of Medicine have determined the molecular structure of a protein whose mutations have been linked to several early aging diseases and side effects for common HIV and AIDS medications. This breakthrough could eventually help researchers develop new treatments for these early aging diseases and redesign AIDS medications to avoid side effects such as diabetes.
UVA Center for Membrane Biology researchers Peter S. Horanyi, PhD, Edward E. Pryor Jr., PhD, and Michael C. Wiener, PhD, collaborated with groups from the Hauptman-Woodward Medical Research Institute and the University of Rochester School of Medicine and Dentistry to determine the molecular structure of the enzyme Ste24p. Their Membrane Protein Structural Biology Consortium is funded by the National Institutes of Health Protein Structure Initiative, which supports the determination of molecular structures of biomedically important target proteins.
Their findings were published March 29 in the journal Science.
The nucleus of a cell is lined with a mesh-like structure called lamin that serves as a scaffold for maintaining nuclear shape and function. Lamin requires the action of another protein, called Ste24p protease, which removes specific parts of the lamin filament and enables proper assembly of the mesh. The research team determined the structure of a Ste24p protein found in a close relative of baker's yeast, whose properties are interchangeable with the same protein found in humans.
The experiments required to solve the structure of Ste24p were performed remotely at the Advanced Photon Source, part of the Department of Energy's Argonne National Laboratory near Chicago. UVA funds access to the laboratory, Horanyi said, to enable researchers to use specialized X-ray crystallographic capabilities available through the South East Regional Collaborative Access Team at the Advanced Photon Source. Working from Charlottesville, UVA researchers can log onto a computer program to remotely control the robots to perform research and to collect data. "It's like using a web application," Horanyi said.
In humans, improper processing and assembly of lamin lead to a group of diseases known as laminopathies, which include muscular dystrophy, cardiomyopathies and a collection of rare accelerated aging diseases in children called progerias. The research team focused on Ste24p, Pryor said, because defects in this protein in humans are responsible for a number of progerias.
In addition, some frequently used HIV and AIDS medications utilized in Highly Active Antiretroviral Therapy (HAART) also interact with Ste24p, altering how patients taking the drugs metabolize fat and leading to treatment side effects that can include insulin resistance and diabetes, Pryor said.
Knowing how the protein is structured could aid researchers in developing drugs to treat progerias and could assist in the redesign of HAART medications to avoid the treatment side effects, Wiener said.
Pryor noted that Ste24p is a biomarker for normal aging in humans – as humans get older, this protein works less effectively. "So this mapping could provide insight to researchers into the aging process for humans," he said.
April 9, 2013 ·
Jennifer Nickerson-Hoffman ·
No Comments

Posted in: Uncategorized
Tamm Lab is pleased to announce that Sonia Gregory is the winner of the 2013 Outstanding Biophysics Student of the Year Award.¬† Sonia is a fourth year student in the lab and she will be defending her thesis "The Role of Hydrophobic Residues in the Internal Fusion Loop from Ebolavirus GP2″ on April 4 at 2:00 in the Snyder conference room.
Sonia is now a candidate for the Peach and Hungerford Awards which will be announced at the GBS Symposium on April 19.  Please attend the symposium to support the fine work of all of our students and to congratulate Sonia on a very successful graduate career.
April 1, 2013 ·
Jennifer Nickerson-Hoffman ·
Comments Closed

Posted in: Uncategorized
      
Biophysical Journal has published Benjamin Franklin, Philadelphia's Favorite Son, was a Membrane Biophysicist, written byDa-Neng Wang, Heather Stieglitz, Jennifer Marden, and Lukas Tamm. 
As of February 15th this article ranked number one of Top 20 Papers by download for the 30 days preceding. You can even "Like" it on Facebook!
287-291, 22 January 2013
doi:10.1016/j.bpj.2012.12.028
February 15, 2013 ·
Jennifer Nickerson-Hoffman ·
Comments Closed

Posted in: Uncategorized