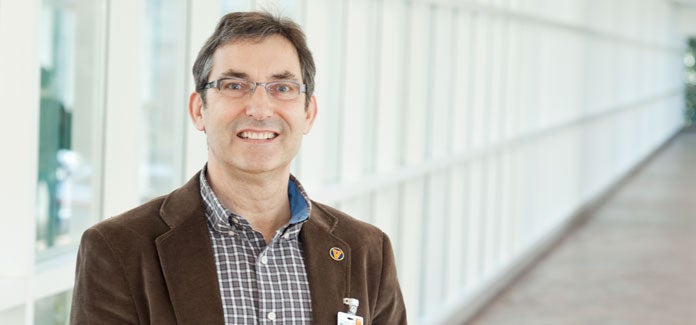 According to the foundation'Äôs website, 'ÄúThe award is granted in recognition of a researcher'Äôs entire achievements to date to academics whose fundamental discoveries, new theories, or insights have had a significant impact on their own discipline and who are expected to continue producing cutting-edge achievements in the future.'ÄĚ Dr. Andreas Herrmann from the Humboldt-University, Berlin, Germany, nominated Dr. Tamm for this award.
March 18, 2014 ·
Jennifer Nickerson-Hoffman ·
No Comments

Posted in: Uncategorized
January 24, 2014
January 27, 2014 ·
Jennifer Nickerson-Hoffman ·
Comments Closed

Posted in: Uncategorized
http://news.virginia.edu/content/uva-president-hear-student-researchers-presentations-april-29
By Matt Kelly
Graduate and undergraduate researchers at the University of Virginia will have the opportunity to present their findings to President Teresa A. Sullivan in a competition to be held April 29 in Newcomb Hall.
Forty-two research projects have been selected to participate in the Presidential Poster Competition, vying for research travel money. Presentations are scheduled to start at 2 p.m., with Sullivan arriving at 4 p.m. to listen to the researchers and present the ribbons.
……..
The competition, sponsored by Sullivan's office, is designed to recognize research as a central part of U.Va.'s mission.
'ÄúThe Presidential Research Poster Competition celebrates the universal involvement of our students in research, and its centrality to their personal growth,'ÄĚ Skalak said. 'ÄúOur students are producing significant new insights every day and we are proud to recognize them. Research threads in the U.Va. student experience intertwine with classroom learning and faculty mentoring to produce a strong and eternal 'Äėgolden braid'Äô 'Äď fashioned from real experience and the habit of learning by doing."
April 29, 2013 ·
Jennifer Nickerson-Hoffman ·
Comments Closed

Posted in: Uncategorized
2013 National Science Foundation Graduate Research Fellowship Program awarded to Jake Morgan of Dr. Jochen Zimmer's Lab.
Congratulations to Jake Morgan!
NSF received over 13,000 submitted applications for the 2013 competition, and made 2,000 award offers. Congratulations to the awardees and honorable mentions.
The National Science Foundation's Graduate Research Fellowship Program (GRFP) helps ensure the vitality of the human resource base of science and engineering in the United States and reinforces its diversity.  The program recognizes and supports outstanding graduate students in NSF-supported science, technology, engineering, and mathematics disciplines who are pursuing research-based master's and doctoral degrees at accredited US institutions.
April 9, 2013 ·
Jennifer Nickerson-Hoffman ·
Comments Closed

Posted in: Uncategorized
Dr. Michael Wiener's Lab has been in the news and on the news, focusing on exciting developments. Click HERE to see the video from NewsPlex
From the University's PR department:
By Josh Barney, Lead editor, University of Virginia Health System
434-243-1988
CHARLOTTESVILLE, Va., March 29, 2013 – Researchers at the University of Virginia School of Medicine have determined the molecular structure of a protein whose mutations have been linked to several early aging diseases and side effects for common HIV and AIDS medications. This breakthrough could eventually help researchers develop new treatments for these early aging diseases and redesign AIDS medications to avoid side effects such as diabetes.
UVA Center for Membrane Biology researchers Peter S. Horanyi, PhD, Edward E. Pryor Jr., PhD, and Michael C. Wiener, PhD, collaborated with groups from the Hauptman-Woodward Medical Research Institute and the University of Rochester School of Medicine and Dentistry to determine the molecular structure of the enzyme Ste24p. Their Membrane Protein Structural Biology Consortium is funded by the National Institutes of Health Protein Structure Initiative, which supports the determination of molecular structures of biomedically important target proteins.
Their findings were published March 29 in the journal Science.
The nucleus of a cell is lined with a mesh-like structure called lamin that serves as a scaffold for maintaining nuclear shape and function. Lamin requires the action of another protein, called Ste24p protease, which removes specific parts of the lamin filament and enables proper assembly of the mesh. The research team determined the structure of a Ste24p protein found in a close relative of baker's yeast, whose properties are interchangeable with the same protein found in humans.
The experiments required to solve the structure of Ste24p were performed remotely at the Advanced Photon Source, part of the Department of Energy's Argonne National Laboratory near Chicago. UVA funds access to the laboratory, Horanyi said, to enable researchers to use specialized X-ray crystallographic capabilities available through the South East Regional Collaborative Access Team at the Advanced Photon Source. Working from Charlottesville, UVA researchers can log onto a computer program to remotely control the robots to perform research and to collect data. "It's like using a web application," Horanyi said.
In humans, improper processing and assembly of lamin lead to a group of diseases known as laminopathies, which include muscular dystrophy, cardiomyopathies and a collection of rare accelerated aging diseases in children called progerias. The research team focused on Ste24p, Pryor said, because defects in this protein in humans are responsible for a number of progerias.
In addition, some frequently used HIV and AIDS medications utilized in Highly Active Antiretroviral Therapy (HAART) also interact with Ste24p, altering how patients taking the drugs metabolize fat and leading to treatment side effects that can include insulin resistance and diabetes, Pryor said.
Knowing how the protein is structured could aid researchers in developing drugs to treat progerias and could assist in the redesign of HAART medications to avoid the treatment side effects, Wiener said.
Pryor noted that Ste24p is a biomarker for normal aging in humans – as humans get older, this protein works less effectively. "So this mapping could provide insight to researchers into the aging process for humans," he said.
April 9, 2013 ·
Jennifer Nickerson-Hoffman ·
No Comments

Posted in: Uncategorized
Tamm Lab is pleased to announce that Sonia Gregory is the winner of the 2013 Outstanding Biophysics Student of the Year Award.¬† Sonia is a fourth year student in the lab and she will be defending her thesis "The Role of Hydrophobic Residues in the Internal Fusion Loop from Ebolavirus GP2″ on April 4 at 2:00 in the Snyder conference room.
Sonia is now a candidate for the Peach and Hungerford Awards which will be announced at the GBS Symposium on April 19.  Please attend the symposium to support the fine work of all of our students and to congratulate Sonia on a very successful graduate career.
April 1, 2013 ·
Jennifer Nickerson-Hoffman ·
Comments Closed

Posted in: Uncategorized
      
Biophysical Journal has published Benjamin Franklin, Philadelphia's Favorite Son, was a Membrane Biophysicist, written byDa-Neng Wang, Heather Stieglitz, Jennifer Marden, and Lukas Tamm. 
As of February 15th this article ranked number one of Top 20 Papers by download for the 30 days preceding. You can even "Like" it on Facebook!
287-291, 22 January 2013
doi:10.1016/j.bpj.2012.12.028
February 15, 2013 ·
Jennifer Nickerson-Hoffman ·
Comments Closed

Posted in: Uncategorized
Press Release by Joshua Barney, UVAToday
CHARLOTTESVILLE, Va., Dec. 13, 2012 — Researchers at the University of Virginia School of Medicine have deciphered the secrets of the production of cellulose, the most common natural polymer on Earth, in a discovery that could have major ramifications for both biofuel production and the battle against bacterial infections…
In a paper published in the prestigious journal Nature, the UVA researchers map out the three-dimensional architecture of the enzyme complex responsible for cellulose production. The researchers first determined the components necessary to produce and secret cellulose and then solved the structure of the enzyme complex. Their study reveals how new cellulose polymers are extruded from a cell through a channel, a bit like a spider spinning a thread of spider silk, and how this process is intimately linked to the formation of cellulose. Until now, the end result was understood but the process itself was largely unknown. to read more of the press release…
To read the article in Nature:
http://www.nature.com/nature/journal/vaop/ncurrent/full/nature11744.html
December 19, 2012 ·
Jennifer Nickerson-Hoffman ·
Comments Closed

Posted in: Uncategorized
From a report by Josh Barney, Lead editor, University of Virginia Health Systems:
UVA Discovery Helps Explain Blood Pressure Regulation
May Point to New Therapeutic Target for Treating High Blood Pressure
CHARLOTTESVILLE, Va., Nov. 13, 2012 – Researchers at the University of Virginia School of Medicine have shed new light on blood pressure regulation with the discovery of an unexpected mechanism by which hemoglobin controls the delivery of nitric oxide. The findings may point to a new therapeutic target for treating high blood pressure and may have far-reaching implications for many organ systems and illnesses.
Hemoglobin is best known for its role in transporting oxygen in the blood. But it also can bind nitric oxide, a powerful vasodilator. By relaxing smooth muscle cells, nitric oxide widens blood vessels, decreasing blood pressure. The new UVA research shows that there is a complete system within the myoendothelial junction – the "bridge" between the smooth muscle and the endothelial cells lining the blood vessel walls – that allows hemoglobin to regulate nitric oxide delivery, essentially controlling the size of the blood vessel.
The UVA researchers were surprised to spot hemoglobin alpha in the myoendothelial junction. At first they thought it was a mistake. "We didn't believe it. We thought it was contamination," says Brant Isakson, PhD. "Maybe we had a blood smear on our fingers? … Then we started to put two and two together."
What they found has earned them a place in the pages of the prestigious journal Nature.
An unexpected mystery solved
The UVA team had seen reports of hemoglobin alpha from other researchers looking at myoendothelial junctions. But it would typically be one protein in a list of many, reported for the sake of completeness. The UVA researchers, however, realized hemoglobin alpha was actually regulating the binding of nitric oxide, directly affecting the size of the blood vessel.
"To make a complicated story short, we did find it binds the nitric oxide, and it can bind it very tightly or loosely," Isakson says. "Basically what we have in this very localized structure is a complete system for regulating nitric oxide delivery to the smooth muscle."
A cause of high blood pressure?
Some chronic problems with high blood pressure, Isakson suspects, may be the result of problems with the amount of hemoglobin in the blood vessel wall.
"The implications for this research are very widespread. The most immediate thing is blood pressure regulation," Isakson says. "We're trying to find ways to specifically delete hemoglobin alpha in the blood vessel wall and look at blood pressure changes."
Far-reaching implications
But the mechanism the UVA researchers have identified may play an important role in many other parts of the body, and possibly in many illnesses. "There are all these scattered reports of hemoglobin and [nitrogen oxide signaling] expressed in the lungs, for example, and in neurons, and in all these other places. Maybe, just maybe, it's very similar to what we show here: That they form this macromolecular complex and that can very tightly regulate how much nitric oxide is delivered," Isakson says.
"In our case, we're very interested in how that nitric oxide regulates blood pressure and dilates the smooth muscle. But you can extrapolate that to neurons. Neurons use nitric oxide for their cell communication," he says. "Inflammatory responses, there's another big one. Nitric oxide is anti-inflammatory. We're really extrapolating here, but if we are correct, if you can regulate how much nitric oxide is released by this complex, then you can regulate the inflammatory response."
For the Nature publication, click here.
The findings have been published by Nature online and will appear in a forthcoming print edition. The paper is authored by Adam C. Straub, Alexander W. Lohman, Marie Billaud, Scott R. Johnstone, Scott T. Dwyer, Monica Y. Lee, Pamela Schoppee Bortz, Angela K. Best, Linda Columbus, Benjamin Gaston and Brant E. Isakson.
Josh Barney
Lead editor
University of Virginia Health System
243-1988
November 14, 2012 ·
Jennifer Nickerson-Hoffman ·
Comments Closed

Posted in: Uncategorized

The Journal of Molecular Biology tracks their most popular articles by the number of downloads within a 90 day period. Soon after publication, this article written by Tamm Lab scientists was featured as the number one downloaded article.
1. Fusion Activity of HIV gp41 Fusion Domain Is Related to Its Secondary Structure and Depth of Membrane Insertion in a Cholesterol-Dependent Fashion
20 April 2012
Alex L. Lai | Anna Eswara Moorthy | Yinling Li | Lukas K. Tamm
Abstract
The human immunodeficiency virus (HIV) gp41 fusion domain plays a critical role in membrane fusion during viral entry. A thorough understanding of the relationship between the structure and the activity of the fusion domain in different lipid environments helps to formulate mechanistic models on how it might Read the rest of this post »
August 15, 2012 ·
Jennifer Nickerson-Hoffman ·
Comments Closed

Posted in: Uncategorized